Monthly Payments. Payments are due on the 1st—5th of the month and can be paid in the office (credit card, cash, check), over the phone, or automatically (if signed up for the auto-payment program). A late fee of $15.00 will be charged to your account for all payments received after the 5th of the month. If paid after the 15th of the month, a late fee is $35.00. * To avoid late fees, please, sign up for auto-payment program*
Re-Make / Make-up Class. A make-up class can be made within the same month. Please arrange your make up class with the front desk before attendance (via email). Class attendance is limited, a make-up class is subject to availability.
Registration Fees. $30 per person. $50 per family. Once lifetime.
Equipment Fee(yearly based). Annual charge, initiated during registration or at the beginning of the school year (end of August). $35 per person. $60 per family.
Sibling Discounts. 2nd sibling gets 15%OFF, 3rd sibling gets 25%OFF, 4th sibling gets 35%OFF. Sibling discounts are subject to approval.
We are closed on the following days. There be no make up classes for days from this list.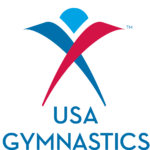 We are USA Gymnastics Professional Club